"Hot stone massage is no longer a luxury"
In an increasingly busy society, receiving a regular massage is no longer a luxury, but a necessity. Repose, rest and reset with a blissful stone massage.
What is Hot Stone Fusion massage you ask?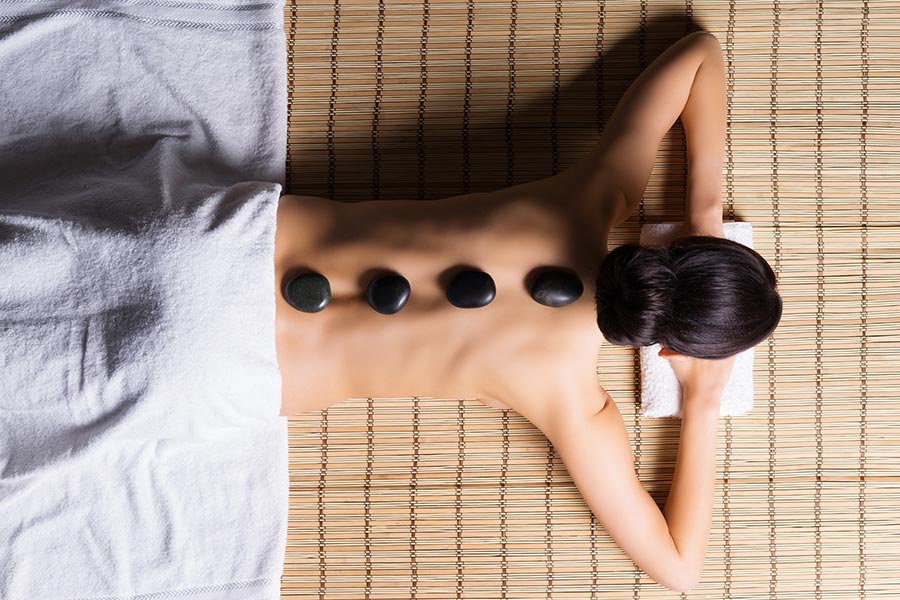 Hot stone Fusion uses both placement stones and working stones, the combination of the heated placement stones and the working stones held and used by the therapist to massage the muscle aid in alleviating long-standing muscle tension.
The warmth from the heated volcanic stones combined with the pleasant aroma of fragrant oil soothes and relaxes, while the increased blood flow and lymph circulation increase the delivery of oxygen to the cells, leaving you feeling revitalised and refreshed.
Once the stones are heated, the therapist will apply pressure and start the firm rhythmic massage sequence focused on releasing tension and stress, this new form of massage combines the benefits of regular massage and heat therapy, in return alleviating stress and providing a deeper level of relaxation.
Imagine this
You take a deep breath in, as you lie on the bedtime begins to slow down.
You take a deep breath out. The aroma of lavender, geranium and other essential oils now fills the room.
You inhale now even more deeply to appreciate their sweet smell, your thoughts begin floating away.
Your focus now shifts to the healing sounds of water playing through the speaker.
You begin to detach from reality, drifting off into a deeper trance.
You feel your body thanking you, you know you have made the right decision.
The oil now covers your skin, as if you were carefully dipped into a warm pool.
The tension and discomfort you once experienced begin to settle with the smooth, long strokes of the therapist's soft but strong hands.
As she collects the hot stones, you take the time to centre yourself. A deep breath in… and another out…
The soothing heat of the smooth basalt stones immediately alleviates that unforgiving dull ache you've been carrying around for quite some time now.
The circling energy of the stones, combined with therapeutic touch, encourages all your stress and pain to slowly melt away.
The therapist uses the stones alongside a unique Swedish stroke, trigger points, stretching and releases to fulfil your goals for the session.
After 90 minutes, you open your eyes feeling warm and cosy.
A refreshing sense of calmness surges through the body like a new superpower.
You feel ready to tackle the busy month ahead
Experience the power of hot stone massage for yourself and book now. It is truly a blissful experience.